The Red Tractor scheme is launching a new Enhanced Welfare standard for chicken.
The chicken grown under this standard will be labelled with a purple label in shops to differentiate it from chicken grown under the standard requirements. 
The Enhanced Welfare standard meets the requirements laid out in the Better Chicken Commitment, which has been adopted by foodservice chains including KFC, and retailers such as M&S and Waitrose and requires slower growing breeds to be used, lower stocking densities, plus environmental enrichment and additional light.
Red Tractor said increasingly consumers are demanding a greater choice and for the scheme to clearly differentiate how some of the product carrying its label is produced.
Extensive UK and international research conducted by Red Tractor has helped develop the labelling system for the additional standards modules, chief exectuive Jim Moseley says.
The new marques retain the union flag, the distinctive tractor with the heart in the wheel sitting on a 'tick', but replaces the words Certified Standards from the core logo, with the farming method used. Each new marque will have its own colour:
Free range for chicken: Orange
Enhanced welfare for chicken: Purple
Organic: Green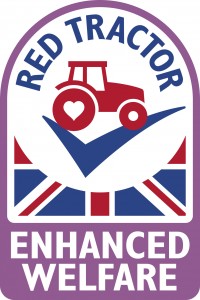 "Over the past 18 months we have been focused on how we can provide greater choice and clarity for those shoppers and diners who are looking to buy British produce grown and reared to recognised production methods," says Moseley.
The new ranges will begin to roll out across foodservice and retail over the next 12 months.  As with the core offering, accredited members will be required to meet robust specifications for the new ranges, which will be checked by independent assessors every step of the food's journey from farm to pack.
In addition to the world-leading requirements already in the core Red Tractor standards, the module includes a slower growing chicken breed and more space and natural light in barns to encourage natural behaviours like pecking, scratching, wing flapping and use of perches. Stocking density is reduced from 38kg/m² to 30kg/m².
The Enhanced welfare module meets all the requirements of the 2026 Better Chicken Commitment/ European Chicken Commitment.
Q&A with Jim Moseley
The Red Tractor chief executive spoke to Poultry Business to explain the thinking behind the new standard
Q: Why is this needed?
A: When Red Tractor was first established it was a set of core standards that assured food was safe and responsibly produced and affordable for all. So, it was one mainstream position. But we completely recognise that there are some obvious examples where consumers are asking for [different things such as]organic or a focus on animal welfare, etc. And so the feeling is why couldn't Red Tractor fulfil total consumer demand by developing those marques as well?
In doing that we also saw two other opportunities. One was, could we improve the clarity of labelling to enable consumers to make a more informed choice? And the other was, could we reduce the audit burden on farmers and growers if we were doing all of those marques?
So, that was the brief we started from. Providing greater choice, improving label clarity, and trying wherever possible to reduce the audit burden on farmers and growers. 
Q: Is Red Tractor's new enhanced welfare standard the same as the RSPCA Assured standard?
A: It is pretty much equivalent to the RSPCA standard. So the stocking density, the protocols on slower growing breeds, the natural light, the enrichment, are all the same as RSPCA. But of course it is underpinned by the Red Tractor standard so, if you are already a Red Tractor poultry producer, then effectively you can almost see this as a bolt-on to the core standard that enables you to get to the enhanced welfare tier.
If the only way you can currently achieve that is by RSPCA accreditation, then in the future you could do this through Red Tractor at the time of your standard Red Tractor inspection. And that is what I mean about the possibility of reducing the audit burden. You are only dealing with one assurance scheme, and one inspection that looks at the core and the bolt on.
NOTE: The RSPCA disagreed with this description and said there were several areas where the two standards differed. A spokesperson said:
Red Tractor's new 'enhanced welfare' label has only adopted some of the RSPCA's standards for chicken on-farm. It hasn't adopted any of the RSPCA's key higher welfare standards for transport and slaughter 

Welfare standards alone don't ensure good farm animal welfare. What's equally important is the assurance that these standards are being fully implemented on farm

RSPCA Assured's assessment process is more rigorous than any other farm assurance scheme or label. RSPCA Assured labelled products uniquely come from farms that are assessed annually to hundreds of strict RSPCA welfare standards. These assessments are carried out by specially-trained assessors, employed by RSPCA Assured. They are completely independent from the farming industry

In addition, RSPCA Assured farms are also subject to unannounced visits by RSPCA farm livestock officers to ensure standards are being maintained.  They are a completely different set of people to the assessors – independent from the scheme – and are also unique to RSPCA Assured

Further, RSPCA Assured assessments include a unique physical welfare assessment of the chickens which is not carried out under Red Tractor's 'enhanced welfare' label
Q Is there any concern this enhanced welfare marque might undermine the standard product and make it look inadequate?
A: I don't think so. All of our research shows consumers clearly get that what we are offering them is greater choice.
So a lot of them will be perfectly happy with the Red Tractor core standard. It denotes very good health for the birds already, far better than European legislation and far better than other places in the world. They know they are buying into that, but for those people who want a product with higher welfare, then enhanced welfare is completely understood by the consumer as is free-range, as is organic. So, I don't think it undermines the core, it is simply seen by consumers as offering more choice.
Q: Have you got any estimates of the uptake?
A I don't. You will have seen Tesco has launched Room to Roam range, which is based on the RSPCA and our enhanced welfare standards. We know that there are other retailers and other foodservice customers that are very interested. Coronavirus has had an impact here because other retailers have shrunk the offer on their shelves to make it more of a core offer that they can constantly replenish. So, the timing of the virus has had an impact and therefore we are not seeing yet the total take-up of the modules or the marque.
Q: How significant is the Better Chicken Commitment in your decision to launch this marque?
A: I would say at the end of the day it is all very much about what consumers need. If you take another issue like single use plastics; because consumers became aware of the issue, then they started to look for manufacturers and brands to respond to that.
There are some consumers, perhaps not the majority, who are interested in higher welfare and so on. And therefore, this tier is there for them. If offers them that choice. And it is also fair to say that as Red Tractor we are clearly there to reassure consumers that the safety and the welfare and the environmental aspects of whatever the product is, is being looked after and is being done properly.
We also have a big customer base of retailers and lots of foodservice operators who use Red Tractor as their buying specification and their due diligence. And we hear from them, where their needs are and where their demands are and we absolutely need to react to that as well because they are the customers and they are the first point of purchase for lots of producers.